RTA NOL card, an electronic ticketing device has become a daily essential card for public transportation in UAE and checking the RTA NOL card balance is necessary.  These card holders could use Metro, Buses, Tram, and water transportation options like Water Buses.
It is quick and simple to use and by tapping or through online RTA website you could check the balance before entering the stations. All the inquiries regarding the nol card such as the balance, recharge, and usage can be tracked by both online and offline methods.
How to check NOL card balance online & offline?
To check the NOL balance online,
Visit RTA website
In the homepage, scroll down to select "Check NOL balance"
Enter the nol card number
Click the search button
You can also enquire about the NOL balance offline through 2 ways. One method is to visit the service centres where you could hand over the card and check the balance for free. Another way is during the check-in process at the entrance of buses or metros.
There you can place your nol card on the reader. If you hear a beep sound, there is no sufficient balance. At the same time, the green light denotes a successful check-in.
Types of NOL cards
There are different varieties of NOL cards and the top-up limit and the validity period of each one is unique. They are:
Gold card: It is suitable for both transportation and non-transportation services of NOL scheme. You have access to the Metro & Tram Gold class seats for twice the standard fare. These are available for AED 25 including AED 19 as e-purse value. It is valid for 5 years and the maximum balance is AED 1000
Silver card: It is a regular card which is valid for all the mentioned transportation and non-transportation services. It is the perfect card for a starter. This card can be bought from any ticket office with unit price AED 25 including balance AED 19. The maximum top-up limit is AED1000 with 5 years validity.
Personal card: It is a blue card which is secure and best for daily commuters. It can be used for all types of transportation services under NOL scheme. Unlike other cards, personal card users could recover their balance if the card is lost or stolen.
For any concession fares, these cards are required and there are various secure online services for recharging the cards. It costs 70 AED with 20 AED as e-purse value. It is valid for 5 years and has a maximum balance amount of AED 5000. For students, people of determination and senior citizens (Emiratis), concession fare is given if provided the required documents.
Red ticket: It is a paper-based ticket which can be bought at AED 2. It is suitable for only one mode of transportation at a time and is best suited for occasional users such as tourists. It can be recharged for a maximum of 10 journeys or 5 daily passes and is valid for 90 days or 10 trips.
Benefits :
RTA is introducing the NOL Card as a means of transportation within UAE, Dubai for the benefit of public. Cash payments for the Metro, buses, and water buses will not be accepted. You can travel around UAE across different modes of transport and can easily pay for the parking with this card.
You can enjoy low cost fares and also concession fares. For better convenience there are different categories of nol cards. These can be used for the payment of groceries, food and other items in authorised shops.
How to recharge NOL cards
For any type of card, the minimum balance is AED 7.5. The maximum balance is AED 1000 for anonymous and AED5000 for registered. For recharging the cards follow these online and offline methods: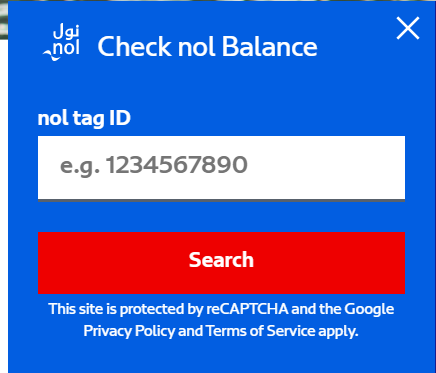 Go to RTA website. From the drop-down menu, select Top up nol card and fill in the required details and then confirm and pay
You can download RTA mobile app for top-up
You can visit the service centres such as the Vending machines, Solar-powered machines and Smart Teller devices to recharge the NOL cards
There are several authorised agents and shops in UAE where you can top-up the card
Using these NOL cards make the public transportation in UAE more accessible and convenient for the people. For better experience, public should be aware about the card facilities and using online and offline methods, nol card balance can be checked and recharged. Another feature is that these cards offer more facilities to the people other than transportation.